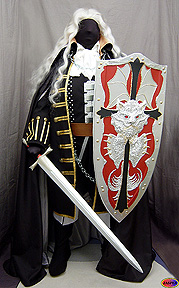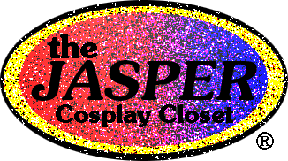 Konnichiwa! Welcome to David and Kimberly's Cosplay Closet. Hand-made costumes by fans, for fans, of anime and manga.
"Where Costumes Become Anime-ted."®

---
What is Cosplay?
Cosplay (a.k.a. "Costume Play") refers to the activity of dressing up in costume. The term cosplay, or "ko-su-pu-re," originates from Japan, where cosplay is a popular form of entertainment among children and young adults. Japanese cosplayers frequently attend costume role playing parties and the ComicMarket to celebrate and be seen. Cosplay costumes are not limited to a particular theme. Cosplayers enjoy dressing up and performing as their favorite fantasy, Sci-fi, anime, manga and game characters. Cosplay is the Japanese version of western "Fan Masquerade" and "Hall Costuming" combined.



The Ramsays enjoy dressing up as different characters...


...and they like to challenge themselves with every project.
---
Proud to be made in the United States.



Everyone welcome!
---

Free counters provided by Honesty Communications.
---
"Z-RAM Bytes the Dust", "Z-RAM", "The Kleen Team", "Sailor La Trine", "Tuxedo Kleen" and "Mana Oiseau"
Copyright 1997~2001 David Ramsay and Kimberly J. Ramsay. All rights reserved.
Copyright 1999~2009 David Ramsay and Kimberly J. Ramsay. All rights reserved.
"The Japanese Animation Super Premiere Entertainment Review" ,
"the J.A.S.P.E.R." and "theJASPER" logo are trademarks of David Ramsay, 1998~2009.
"theJASPER Cosplay Closet" logo and
"The Cosplay Closet: 'Where Costumes Become Anime-ted'" slogan
are ® Registered Trademarks of theJ.A.S.P.E.R. Cosplay Closet, Inc., 1999~2001;
2002~2009 David Ramsay.
David Ramsay and Kimberly J. Ramsay acknowledge the
copyright holders of materials contained herein and do not seek to infringe on their rights.
Reproduction in whole or in part without permission is prohibited.
First uploaded March 1, 1999 by: David Ramsay
Renovated Jan. 12, 2000
Updated on September 1, 2001
Updated on February 15, 2002
Updated on June 11, 2004