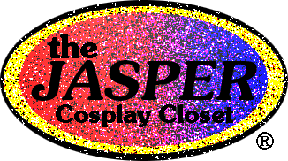 Costumes
by Costume Artist, David Ramsay
Click here to view his résumé, awards and credentials
(Note: We do not make or sell parts of a costume separately. We make complete costumes from head to toe.)
* More Costumes *

For more images of costumes I have created for Kimberly and myself, please visit David's Costume Gallery.
---
---
"Silicon Samurai", "Genome-17", "Z-RAM", "The Hame-Kame Twins", "Ramen Rumble", "Keiko Ramen",
"Getta-sneakers","The Kleen Team", "Sailor La Trine", "Tuxedo Kleen", "CPC Pageant", "CPC Pageant Boy",
"CPC Pageant Girl", "House of Scorpii", "Scorpii Lord" and "Scorpii Lady"
Copyright 1992~2001 David Ramsay and Kimberly J. Ramsay. All rights reserved.
Copyright 1999~2008 David Ramsay and Kimberly J. Ramsay. All rights reserved.
Midori-chan and AKA-chan Copyright © 2000, 2001, 2002 AKA Anime Productions.
No cosplay images of Midori-chan or AKA-chan may be taken from this site.
Anime images are used on this site through written permission from AKA Anime Productions.
"The Japanese Animation Super Premiere Entertainment Review" ,
"the J.A.S.P.E.R." and "theJASPER" logo are trademarks of David Ramsay, 1998~2008.
"theJASPER Cosplay Closet" logo and
"The Cosplay Closet: 'Where Costumes Become Anime-ted'" slogan
are ® Registered Trademarks of theJ.A.S.P.E.R. Cosplay Closet, Inc., 1999~2001.
David Ramsay and Kimberly J. Ramsay acknowledge the
copyright holders of materials contained herein and do not seek to infringe on their rights.
Reproduction in whole or in part without permission is prohibited.
First uploaded March 1, 1999 by: David Ramsay

Free counters provided by Honesty Communications.