Our biggest challenge was to re-create this regal character for a larger client.
Everything had to be scaled up proportionately from the references.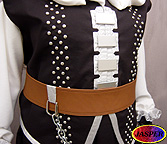 The costume was designed so it can be worn as three separate garments:
the complete Alucard, jacket w/ no cape, or vest only.
After studying specific elements of the vest, it was determined there are four
rows of studs, all the way up. Many designers tend to overlook the vest details.



We provided Alucard a cross pendant to aid in the fight against Count Dracula.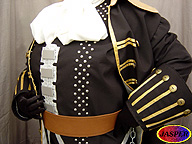 Careful attention was made to accurately recreate elements from the few reference images provided.
Important to note the number of buttons and ribbon used on the jacket and on the cuffs.


We selected a very unique metallic fabric for the jacket lining.
The intricate cross pattern will help Alucard develop a tolerance against evil.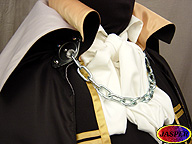 A completely lined, full circle cape was designed.
We used real chain on Alucard's decorative choker.




Master of the Masquerade...



A custom sword was crafted from found objects. No metal
was used, keeping it light weight and travel (TSA) friendly.



Alucard's magnificent shield was hand-made,
also using a variety of found objects.




Overall, we are very pleased with the results of this exceptional project.
---
Copyright 1999~2008 David Ramsay and Kimberly J. Ramsay. All rights reserved.
"The Japanese Animation Super Premiere Entertainment Review" ,
"the J.A.S.P.E.R." and "theJASPER" logo are trademarks of David Ramsay, 1998~2008.
"theJASPER Cosplay Closet" logo and
"The Cosplay Closet: 'Where Costumes Become Anime-ted'" slogan
are ® Registered Trademarks of theJ.A.S.P.E.R. Cosplay Closet, Inc., 1999~2001.
David Ramsay and Kimberly J. Ramsay acknowledge the
copyright holders of materials contained herein and do not seek to infringe on their rights.
Reproduction in whole or in part without permission is prohibited.