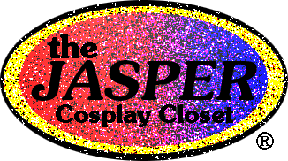 Costumes
by Costume Artist, David Ramsay
Click here to view his résumé, awards and credentials
New costumes will be available for viewing in the future.
---
Duo Maxwell from Gundam Wing
re-creation



We combined elements from the original illustrations and a
Gundam Wing doujinshi to make this Duo Maxwell costume unique.
We made appropriate modifications for our female client, such as raising
the Rampant Lions to rest along her bustline, verses the lower torso.




The jacket is designed to be completely functional with full-length sleeves and inner pockets.
Designed REAL jodhpurs with pockets, belt loops, reinforced inseam and a Men's fly closure.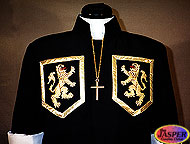 Custom designed and embroidered Rampant Lions on the front of the jacket.
(Hand drawn, computer scanned, four-color, gold metallic embroidery.)
It is the first time we have ever seem a Duo Maxwell costume include embroidered
elements. The ornate back cross and infinity symbol were carefully painted by hand.
Once again, we wanted to make this Duo Maxwell costume special and unlike any other.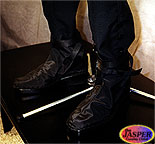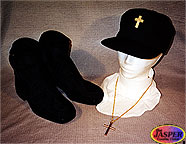 Custom boot covers and accessories, including a hat, removable priest collar and cross pendant.
---
Copyright 1999~2008 David Ramsay and Kimberly J. Ramsay. All rights reserved.
"The Japanese Animation Super Premiere Entertainment Review" ,
"the J.A.S.P.E.R." and "theJASPER" logo are trademarks of David Ramsay, 1998~2008.
"theJASPER Cosplay Closet" logo and
"The Cosplay Closet: 'Where Costumes Become Anime-ted'" slogan
are ® Registered Trademarks of theJ.A.S.P.E.R. Cosplay Closet, Inc., 1999~2001.
David Ramsay and Kimberly J. Ramsay acknowledge the
copyright holders of materials contained herein and do not seek to infringe on their rights.
Reproduction in whole or in part without permission is prohibited.