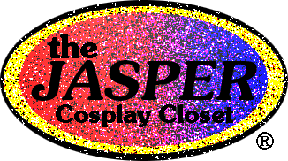 Costumes
by Costume Artist, David Ramsay
Click here to view his résumé, awards and credentials
New costumes will be available for viewing in the future.
---
Jack Russell Terrier Ensemble
original creation




The client requested the "Poodle Skirt" be modified to a "Jack Russell Terrier Skirt".
The costume was designed so it can be worn as three separate garments:
the complete JRT Ensemble, shirt with scarf or shirt only.



Baby blue chiffon scarf with satin ribbon trim, large enough to be worn around the waist if desired.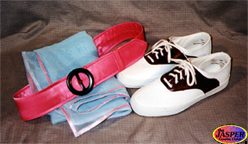 Modified leather sneakers to resemble saddle shoes.
Nickel-plated buttons with pink enameled centers (resembling hubcaps) adorn the shirt and cuffs.




Pink fleece jacket, with a full lined petticoat underneath skirt.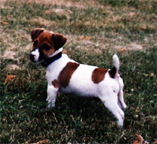 The appliqué was designed from a single reference of the client's dog "Jack", the JRT.
---
Copyright 1999~2008 David Ramsay and Kimberly J. Ramsay. All rights reserved.
"The Japanese Animation Super Premiere Entertainment Review" ,
"the J.A.S.P.E.R." and "theJASPER" logo are trademarks of David Ramsay, 1998~2008.
"theJASPER Cosplay Closet" logo and
"The Cosplay Closet: 'Where Costumes Become Anime-ted'" slogan
are ® Registered Trademarks of theJ.A.S.P.E.R. Cosplay Closet, Inc., 1999~2001.
David Ramsay and Kimberly J. Ramsay acknowledge the
copyright holders of materials contained herein and do not seek to infringe on their rights.
Reproduction in whole or in part without permission is prohibited.