Lined robe with hand-painted appliqués and 100% silk sash.
After studying specific elements of the robe, it was determined the upper chest appliqué is not a perfect circle.
An ovoid shape that many designers tend to overlook.



The back of Li's robe is asymmetrical, with a thinner strip of fabric down the center.



Lined white undergarments.
Note the accurate closures on Li's top and delicate sleeves.




Careful attention was made to accurately recreate elements from the original CLAMP reference images.
The inside collar is lined in black to silhouette the shirt. The lower emblem is an ellipse,
making perfect geometry a challenge. Note inside the lined sleeves, there is an additional orange trim.



Our custom sword and scabbard can be worn on the back.


Li's distinctive hat.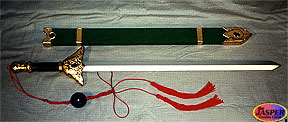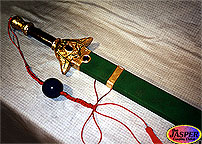 Li's custom sword and scabbard. Instead of making the sword fat and wide (which looks comical in our opinion),
we wanted Li's sword to be light and graceful. We decided to fabricate and paint the sword guard to resemble lost-wax casting.
The scabbard has been aged to represent the battles it has gone through... having been in the family for generations.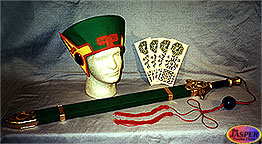 Li's costume includes all four different incantations to ward off evil.
---
Copyright 1999~2008 David Ramsay and Kimberly J. Ramsay. All rights reserved.
"The Japanese Animation Super Premiere Entertainment Review" ,
"the J.A.S.P.E.R." and "theJASPER" logo are trademarks of David Ramsay, 1998~2008.
"theJASPER Cosplay Closet" logo and
"The Cosplay Closet: 'Where Costumes Become Anime-ted'" slogan
are ® Registered Trademarks of theJ.A.S.P.E.R. Cosplay Closet, Inc., 1999~2001.
David Ramsay and Kimberly J. Ramsay acknowledge the
copyright holders of materials contained herein and do not seek to infringe on their rights.
Reproduction in whole or in part without permission is prohibited.