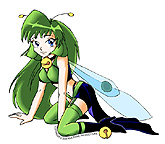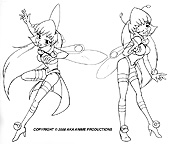 The official mascot for AKA KON 2001.
We wish to sincerely thank Con Chair Amanda Tomasch and AKA KON Staff.
Thank you for inviting us to AKA KON and allowing us to work on such a fun project.


The costume is completely lined, and features holographic green fabric.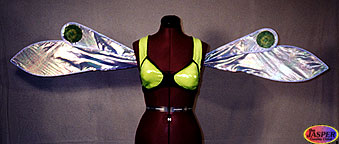 Midori-chan's wings are designed to be worn four different ways.


A lovely, styled wig with antennae.


Darling thigh-hi stockings with bells.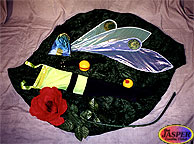 Midori-chan's accessories, including an armband, wristband, choker and prop leaf.
We thought a leaf would be the perfect lounger for this sexy pixie!



As modeled by Jennifer. Isn't she just adorable?

Midori-chan and AKA-chan Copyright © 2000, 2001, 2002, 2003 AKA Anime Productions.
No cosplay images of Midori-chan or AKA-chan may be taken from this site.
Anime images are used on this site through written permission from AKA Anime Productions.


---
Copyright 1999~2008 David Ramsay and Kimberly J. Ramsay. All rights reserved.
"The Japanese Animation Super Premiere Entertainment Review" ,
"the J.A.S.P.E.R." and "theJASPER" logo are trademarks of David Ramsay, 1998~2008.
"theJASPER Cosplay Closet" logo and
"The Cosplay Closet: 'Where Costumes Become Anime-ted'" slogan
are ® Registered Trademarks of theJ.A.S.P.E.R. Cosplay Closet, Inc., 1999~2001.
David Ramsay and Kimberly J. Ramsay acknowledge the
copyright holders of materials contained herein and do not seek to infringe on their rights.
Reproduction in whole or in part without permission is prohibited.