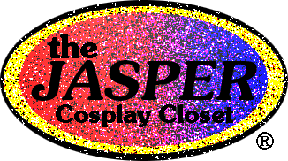 Costumes
by Costume Artist, David Ramsay
Click here to view his résumé, awards and credentials
New costumes will be available for viewing in the future.
---
House of Scorpii: Scorpii Lady
original creation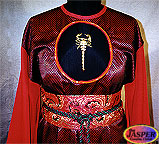 The Scorpii Lady costume consists of a red satin gown, with reversed sleeves (matte outside, satin finish inside).
Alternating panels of black netting and striped fabric. Brocade obi with metallic thread, green/red cording and tassels.



The sleeves are enormous! We added embroidered flowers on the back of the sleeves, to resemble Japanese mon.
We used the shiny side of the fabric on the inside, so when they moved, one could see the fiery red.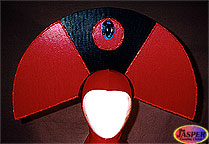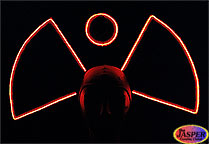 Scorpii Lady's chest and headpiece are edged in Cool Neon.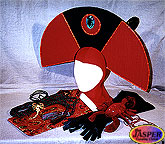 Scorpii Lady's accessories, including jewelry and satin gloves.
A modified Beanie "Stinger" is Scorpii Lady's pet on a leash.
Can you find the elements that inspired Scorpii Lady?



House of Scorpii.
(Animated GIF will activate after page has loaded.)
---
Copyright 1999~2008 David Ramsay and Kimberly J. Ramsay. All rights reserved.
"The Japanese Animation Super Premiere Entertainment Review" ,
"the J.A.S.P.E.R." and "theJASPER" logo are trademarks of David Ramsay, 1998~2008.
"theJASPER Cosplay Closet" logo and
"The Cosplay Closet: 'Where Costumes Become Anime-ted'" slogan
are ® Registered Trademarks of theJ.A.S.P.E.R. Cosplay Closet, Inc., 1999~2001.
David Ramsay and Kimberly J. Ramsay acknowledge the
copyright holders of materials contained herein and do not seek to infringe on their rights.
Reproduction in whole or in part without permission is prohibited.