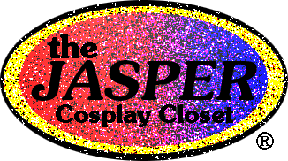 Costumes
by Costume Artist, David Ramsay
Click here to view his résumé, awards and credentials
New costumes will be available for viewing in the future.
---
House of Scorpii: Scorpii Lord
original creation




The Scorpii Lord costume consists of a double breasted, edged jacket with gusset.
The skirt has a front, edged panel with an embroidered blue scorpion (illuminated with Cool Neon).
The skirt has two vents in the front and one in the back.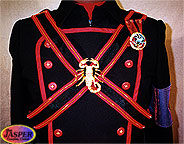 The bandolier, edged in Cool Neon, is used to frame a large scorpion brooch.



We found an unusual iridescent fabric for the cape and embroidered armband.


Scorpii Lord's chest and cap are edged in Cool Neon.



Scorpii Lord's accessories, including embroidered armband, hand painted medal, gloves and riding boots.
The Soviet MVD officer's visor cap includes a real garnet scorpion brooch.
Can you find the elements from these CLAMP illustrations that inspired Scorpii Lord?



House of Scorpii.
(Animated GIF will activate after page has loaded.)
---
Copyright 1999~2008 David Ramsay and Kimberly J. Ramsay. All rights reserved.
"The Japanese Animation Super Premiere Entertainment Review" ,
"the J.A.S.P.E.R." and "theJASPER" logo are trademarks of David Ramsay, 1998~2008.
"theJASPER Cosplay Closet" logo and
"The Cosplay Closet: 'Where Costumes Become Anime-ted'" slogan
are ® Registered Trademarks of theJ.A.S.P.E.R. Cosplay Closet, Inc., 1999~2001.
David Ramsay and Kimberly J. Ramsay acknowledge the
copyright holders of materials contained herein and do not seek to infringe on their rights.
Reproduction in whole or in part without permission is prohibited.