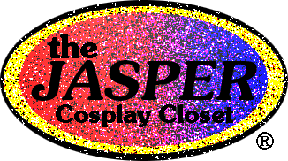 Costumes
by Costume Artist, David Ramsay
Click here to view his résumé, awards and credentials
New costumes will be available for viewing in the future.
---
Sophitia Alexandra from Soul Calibur
re-creation




The challenge of this character, was to design her costume "at rest" verses jumping into the air. All references for this character showed her in action. The CG character's design also posed a challenge, because of the incredibly rich surface textures. While this took the "guesswork" out of fabric and material selection, finding the right match was a successful reward.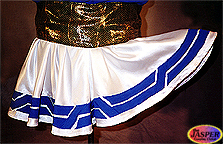 A variety of fabrics and materials, including embossed "snakeskin", were used to create visual texture. With Sophitia, we explored a "rough vs. smooth" theme. The continuous, blue design on the skirt was carefully appliquéd.


Nice detail of the brooches and shoulder armor.


Ultra-Suede, form fit laced boot covers.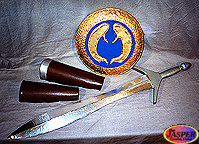 Forearm guards, custom prop sword and shield.
Since Sophitia is a warrior, we wanted to give her weapons a "roughness", due to battle experience.



The whole ensemble.
---
Copyright 1999~2008 David Ramsay and Kimberly J. Ramsay. All rights reserved.
"The Japanese Animation Super Premiere Entertainment Review" ,
"the J.A.S.P.E.R." and "theJASPER" logo are trademarks of David Ramsay, 1998~2008.
"theJASPER Cosplay Closet" logo and
"The Cosplay Closet: 'Where Costumes Become Anime-ted'" slogan
are ® Registered Trademarks of theJ.A.S.P.E.R. Cosplay Closet, Inc., 1999~2001.
David Ramsay and Kimberly J. Ramsay acknowledge the
copyright holders of materials contained herein and do not seek to infringe on their rights.
Reproduction in whole or in part without permission is prohibited.