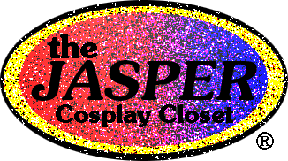 Costumes
by Costume Artist, David Ramsay
Click here to view his résumé, awards and credentials
New costumes will be available for viewing in the future.
---
Tuxedo Mask from Pretty Soldier Sailor Moon
re-creation




Fully lined dress jacket with satin cuffs and roll lapels, faux welt pocket
with kerchief, goldtone buttons with hand-painted yellow centers, dress
pants with satin stripe and matching button.




Jacket details showing fitted waist and shapped sleeves.



Includes a full length lined cape with matching buttons.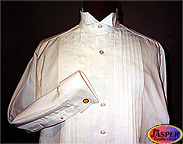 Pleated dress shirt with double wide placket and French cuffs.


Lined vest with fancy buttons and filigree fob.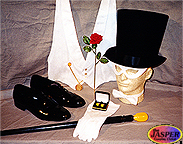 Many accessories, including a custom flared top hat with satin trim, gold-tipped rose,
patent leather shoes, a solid oak cane and goldtone cufflinks with hand-painted details.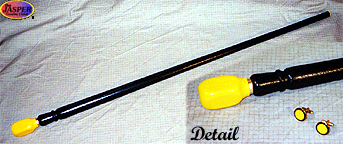 ---
Copyright 1999~2008 David Ramsay and Kimberly J. Ramsay. All rights reserved.
"The Japanese Animation Super Premiere Entertainment Review" ,
"the J.A.S.P.E.R." and "theJASPER" logo are trademarks of David Ramsay, 1998~2008.
"theJASPER Cosplay Closet" logo and
"The Cosplay Closet: 'Where Costumes Become Anime-ted'" slogan
are ® Registered Trademarks of theJ.A.S.P.E.R. Cosplay Closet, Inc., 1999~2001.
David Ramsay and Kimberly J. Ramsay acknowledge the
copyright holders of materials contained herein and do not seek to infringe on their rights.
Reproduction in whole or in part without permission is prohibited.